Jiangsu 20t/h wood pellet production line.This is the largest complete biomass pellet project in Asia Area,Annual processing of 500,000 tons of waste straw, capacity 20 tons/h biomass pellets, annual output of 100,000 tons pellets.
The complete biomass pellet project finishes production and installation within eight months time adopts full automatic computer control system, completely achieves environmental without any dust it has a milestone significance among domestic competitors.
Including chipping section,the first drying section,grinding section,the second drying section,storing materials section,pelletizing section,cooling section,packing section,the whole dust removal section and computer control terminal system.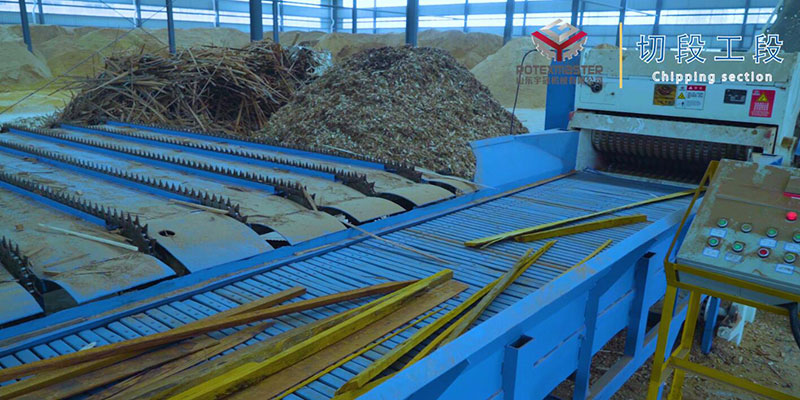 The mechanical gripper put the wood on the buffer platform then the vibration conveyor send it into the chipper machine crushing into wood chips .
The stove offer heat by burning, fan blower pass the heat wind to rotary dryer.The rotary dryer can adjust the rotary speed to control the flow and transport speed of material. All of above parts guaranteed the final output capacity and drying effect of the rotary dryer.
First, the roller conveyor will convey out the dried wood chips from buffer silo to belt conveyor,then wood chips will be conveyed by the belt conveyor into the double rotor hammer mill evenly, to be grinded there , then grinded powder move into the cyclone.
There are 6 sets 220kw YGKJ850 vertical ring die wood pellet machine in pelletizing section, after some time's storage ,the moisture of material in the material, silo is evenly, easy to formation,220kw YGKJ850 vertical ring die wood pellet machine , high efficiency, strong stability, low maintenance cost ; each device highly independent, more reasonable program design.
Cooling Section:
The counter flow circulating wind cooling wood pellets to room temperature . The cyclone collecting the dust , ensure clean. There is a simple screener below the cooling silo, screening cooled wood pellets, make pellets quality better, more standard.
Packing Section:
Screened wood pellets are transported to the finished product silo by the big-angle belt conveyor. The finished product is equipped with an automatic weighing of the tonnage scale, and the pellets are packed according to the set weight, and the net bag conveyor delivers the packaged pellets to the specified location.
Dust Removal And Computer Control Terminal System:
The whole line use pulse dust collection and bag dust collection We use big wind pipe to collect all dust which produced in transport process into dust collection room,which protect the cleaning of all workshop.
The overall electric control system using the combination of centralized control and distributed control, so that the centralized management of the whole production line running will be better, distributed emergency control more timely.
Products: